amos trust christmas appeal
A new born baby crying in Gaza can not be comforted by a world which prefers to look away. They will be forgotten, until the next round of destruction.
Standing in solidarity with Palestine
This year, the A
mos Christmas
 appeal is for:



Holy Land Trust in Bethlehem

As they seek to keep hope alive for the villages in the South Hebron Hills


Al Ahli Hospital in Gaza City

Their work to address the trauma of women and children in Gaza City and building resilience and rekindling hope.

 

£10 will pay for a one-on-one session 
of psychosocial support at Al Ahli

£20 will give a child the chance to smile and laugh at one of Al Ahli's

 'Days of Joy'


£50 will support Holy Land Trust's community activists in Um al-Khair

£80 will meet the costs for a course of psychosocial support at Al Ahli

 Hospital.
Peace isn't just about finding a political solution. It's about community, the empowerment of a community to be able to say enough is enough.


Sami Awad — Director, Holy Land Trust. 
The community of Um al-Khair in the South Hebron Hills has seen their land taken by the adjacent Israeli settlement of Carmel — homes have been demolished and Israel refuses to allow then running water or electricity.Holy Land Trust is shining a light on this community this Christmas, as they stand with them against the constant threat of eviction.

Iman's family have lived in Um al-Khair for generations. She finds winters particularly difficult because she relives the trauma of her home being demolished in the winter of 2014. Her son was just five months old when Iman received a phone call telling her that the Israeli Defence Force were on their way to destroy her home. She had just enough time to take her family's personal belongings.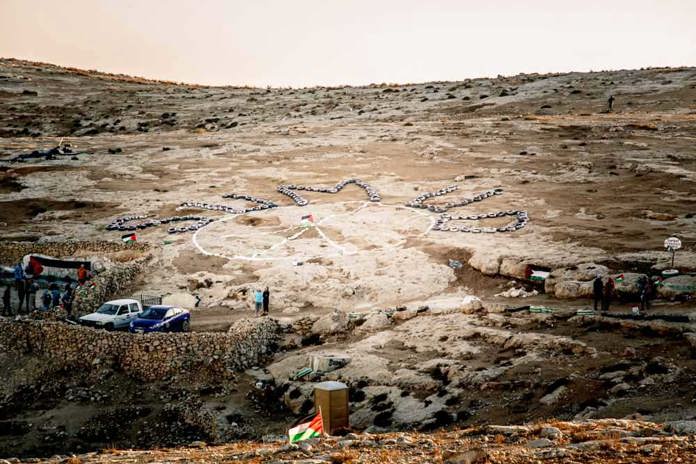 Sumud – 'steadfastness'
The Sumud Peace Camp – supporting the community of Um al-Khair in the South Hebron Hills – August 2017. © Amos Trust/Mark Kensett

Iman said,
"My life is in Um al-Khair. It is not an easy life but I cannot leave. Sometimes I have panic attacks because I see my dream broken. I believe, like my father did, that we have the right to live without the constant threat of demolition, to have enough clean water, to have good houses that we can live in during all seasons, and for all of us to live without fear".
When Johaina's daughter was born, she named her Ghazal (my little Finch). After their home was destroyed in the 2014 assault on Gaza, they moved in with Johaina's brother and in-laws.
Three years later they are still there, three families in three rooms, with only 2-3 hours of electricity a day. Ghazal is now 7, she is withdrawn, anxious, doesn't eat and hates going to school.
Johaina's in-laws blame her for how her daughter is and she blames herself. Al Ahli has identified that both Johaina and Ghazal are suffering from on-going traumatic stress and are providing them both with psychosocial support.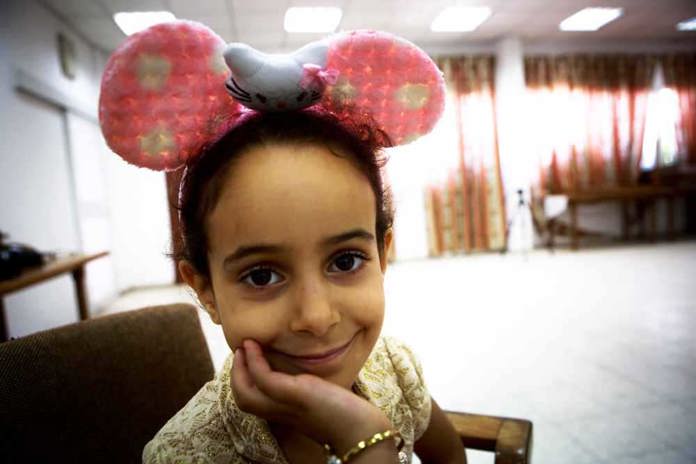 Mickey Ears:
A young girl enjoying herself at one of Al Ahli Arab Hospital's 'Days Of Joy' in Gaza City in June 2016. © Amos Trust/Nick Welsh 
Ghazal has made rapid progress and now enjoys the hospital's Days of Joy programme, which draws together children from the areas most affected by the 2014 conflict. It provides a day of team building, laughter and fun, and an opportunity for the social work team to pick up with individual children and make sure that they are coping.
Despite home demolitions, ongoing movement restrictions and intolerable living conditions, the people in Gaza and the South Hebron Hills remain steadfast (Sumud), in their hope for freedom, peace and justice and ask for us to stand with them. Solidarity is the heart of the Christmas story.
For those living under a brutal occupying force, it is invaluable. It takes our time, it requires our effort and it needs our financial support now more than ever we need to stand in solidarity with the people of Palestine.

Sources:
UNRWA 2016 emergency appeal annual report.

Main image:
Al Ahli Arab Hospital
Mother & Baby Nutrition Unit, Gaza City — June 2016
© Amos Trust/Nick Welsh


amos trust works all around the world
We work alongside grass-roots partners in the West Bank and Gaza in Palestine, South Africa, Nicaragua, Burundi, India and Tanzania.
support amos trust
Your gift will enable our partners to bring justice and hope to the forgotten around the world.
GIVE NOW
do you prefer paper?
Please sign up to receive our printed newspaper which comes out three times a year.
SIGN UP NOW
contact us
Amos Trust
St Clement's
1 St Clement's Court
London
EC4N 7HB
United Kingdom